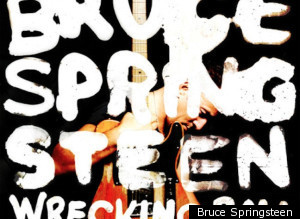 The Greatest Springsteen Album Since His Last Greatest Album
I wanted RTunes68 to be the first blog to review the upcoming Bruce Springsteen album
Wrecking Ball
. So here it is:
The Boss returns with the greatest rock album since....well, his last greatest rock album. Bruce really speaks to the everyday man - his concerns, his plight - and...
speaks truth to power!
The album is breathtaking, lyrically and musically. I would bestow the monicker "Bob Dylan" on Bruce if there weren't already a Bob Dylan - that's how brilliant The Boss is.
If there were a Rock And Roll Hall of Fame for members of the Rock And Roll Hall of Fame, Bruce should be inducted
now
.
I speak for all music critics when I say that our only complaint about Springsteen is that he's
too
great.
(...See, I've just made all the reviews that surely will inundate the media in the weeks ahead entirely redundant.)